By
Geomusic
Date
2017-07-16 16:57
Edited
2017-07-16 17:04
[url=]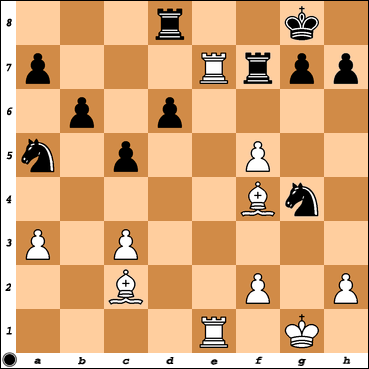 [/url]
this took me like 30 mins to solve. I need to learn to recognize these types of tactics immediately. LOL
for what its worth this game was played by two 2200+ black actually found the right first move in this position during this 10 0 game, but his continuation was wrong and he ended up with a drawn position instead.
By
Labyrinth
Date
2017-07-17 02:26
Crazy that the thing wouldn't work if the white bishop was on b1..
By
Geomusic
Date
2017-07-18 18:38
yeah lol...interesting if bishop was there pushing c4 takes too much time. and draw
By
RussiaToday
Date
2017-12-28 05:29
Easy...
By
Morpheus
Date
2017-12-28 09:27
Ne5
Powered by mwForum 2.27.4 © 1999-2012 Markus Wichitill